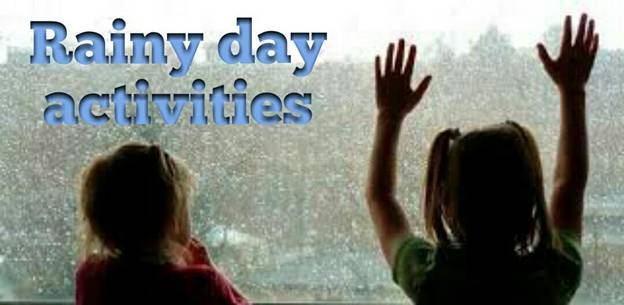 Activities for Rainy day
Rainy season seems to be a very lovely weather but simply mean being cooped up inside. In this weather kids feel like restless as they are stuck indoors while raining.
When it's too raining to go outside, you'll be hearing echoes of "Mommmm . . . I'm bored!!!!"
So ask them "no need to get bore baby" with some interesting ideas. Let them engage in quiet activities such as watching movies/cartoon, playing video games, making puzzles, maybe even reading a book or two. But don't let them Be Inactive on Rainy Days by just being engaged in these quite activities. Some of the most fun they can have is playing in the rain.
So here are list of some indoor and outdoor activities:
Indoor Activities for rainy day are:
* Create a town in a cardboard box with roads, tracks, bridges, parks, car-parks, etc. Add some wooden house/building blocks, cars, trains and some wooden/plastic animals. And let your kid's imagination run wild.
* Play board games like ludo, snake n ladder, chess etc.
* Set up a home cinema and settle down to watch some fun family/Disney movies together.
* Close the curtains, switch off the lights and with the help of a torch, take turns making shadow shapes on the walls, with your hands. See who can make the amazing shapes.
* Make paper boats and aero plane.
* Set up a coloring station and take some pintable / coloring sheets, take out all the pens and crayons and just have a colorful fun
* Have a small treasure hunt game like everyone gets a matchbox to fill it with as many tiny objects as they can find with a fix given time.
* Get crafty, have an art supplies box filled with glitter, colored ball, stickers and some decorative items and let them get creative.
* Create an indoor obstacle course with plenty of hopping, jumping, climbing, crawling, falling on cushions/mattresses and let the kids go mad and try to beat each other's times round the course.
? Indoor camping, make a tent with your kids with in a room, let them decorate, bring in their toys, books, tell campfire stories and perhaps even enjoy a picnic lunch in their camp.
Outdoor Activities for rainy day are:
* Catch raindrops on your tongue, hands, and feet.
* Blow bubbles play and compare who can make the biggest one you or your kid.
* Rainy days are the perfect days for looking worms as they move up to the surface of the earth.
* Take a look at the earth, dirt, sand and the grass and see how the rain changes these things.
* Embrace the wetness and turn on your sprinklers or set up your kiddies pool to play in.
* Measure the rainfall by putting out a cup and see how much you can catch. Let everyone guess what proportion they think are going to be within the cup by the time the rain stops.
* Fishes, frogs, ducks and other animals are always outside in the rain. Pretend to be one of these wet-weather friends.
* Listen to the rhythm that the rain makes and have a dance contest between you n your kid.
* Instead of jumping in the puddles, try jumping over them.
* Look for animal tracks in the mud. Try to guess which animal made the tracks.
* Bring out some washable paints along with paper and let the rain make a masterpiece.
* Set up a wet-weather obstacle course. (Be careful, it will be slippery.)
* Make mud pies or sand castles, depending on your soil type.
* When the storm has passed, be sure to look for a rainbow.
Rainy Day Precautions
Don?t you want to take precautions against hypothermia? You will cool down radically if your clothes get wet, especially if there is any wind. Be aware of signs like shivering, clumsiness, and confusion and limit your time outside in wet clothes. Get inside and change to dry clothes immediately and warm up.