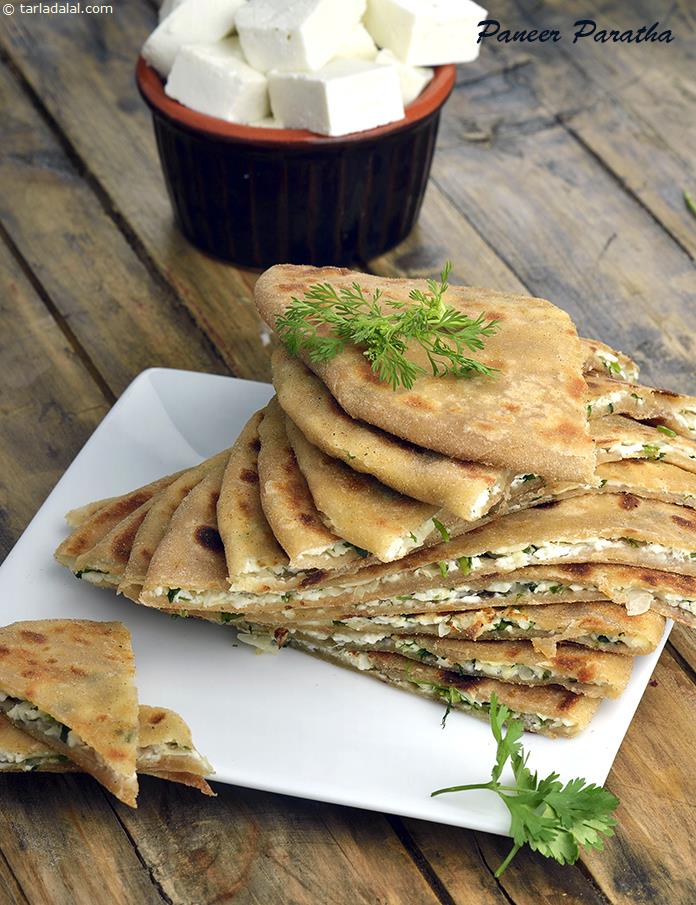 Paneer Paratha
#Paneer#CottageCheese #Paratha #IndianFood #NorthIndian #LunchBox #HealthyMeal
#mainCourse#WheatFlour #DeliciousFood #fibreRich #FoodForKids #veg
Ingredients:
? 1 cup multigrain/wheat flour
? ? cup crumbledpaneer/cottage cheese
? 1 tablespoonginger garlic paste ?Optional
? ? tablespoongaram masala
? 1/8 tablespoonajwain/carom seed -Optional
? 2 tablespoon Ghee/Oil
? ? tablespoonTurmeric
? 1 ?green chillifine chopped or paste ?Optional
? Salt to taste
? 2 tablespoonfine chopped green coriander leaves
Preparation:
? Add flour,paneer, ginger-garlic paste, garam masala, ajwain, turmeric, green chilli andcoriander leaves into a mixing bowl. Add salt to taste and knead a soft doughusing normal water
? Set it aside for30 mins
Making:
? Make 7-8 ballsout of dough, sprinkle some flour for rolling
? Rollout roundlike roti, spread some oil over it and fold it half
? Spread some moreoil or ghee and fold to make quarter shape
? Roll gently tomake an even triangular shape
? Place triangularparatha on pre-heated pan.
? Let it roast fromone side when partially cooked, approx. 1/4th cooked, and filp over
? Apply ghee/oil onParatha and flip again to cook the other side
? Apply ghee/oil onthis side and let Paratha get cooked till golden spots appear.
? Press withspatula on the sides for even cooking.
? Paneer Paratha isready to get rolled in tiffin boxes for lunch.